Process: "Mazash!" Commission
The request for this piece was slightly more complex than a standard character portrait. It was for Zatanna, transforming into a Captain Marvel-esque costume by invoking the power of "Shazam" with her powers of logomancy.

So I googled around for some pose references for inspiration. Then I drew up a very loose sketch in my dot grid notebook. I came up with the idea of a bolt of magic power bisecting her figure with the two costumes on each side. The bolt would follow the line of the Captain/Mary Marvel logo on her chest.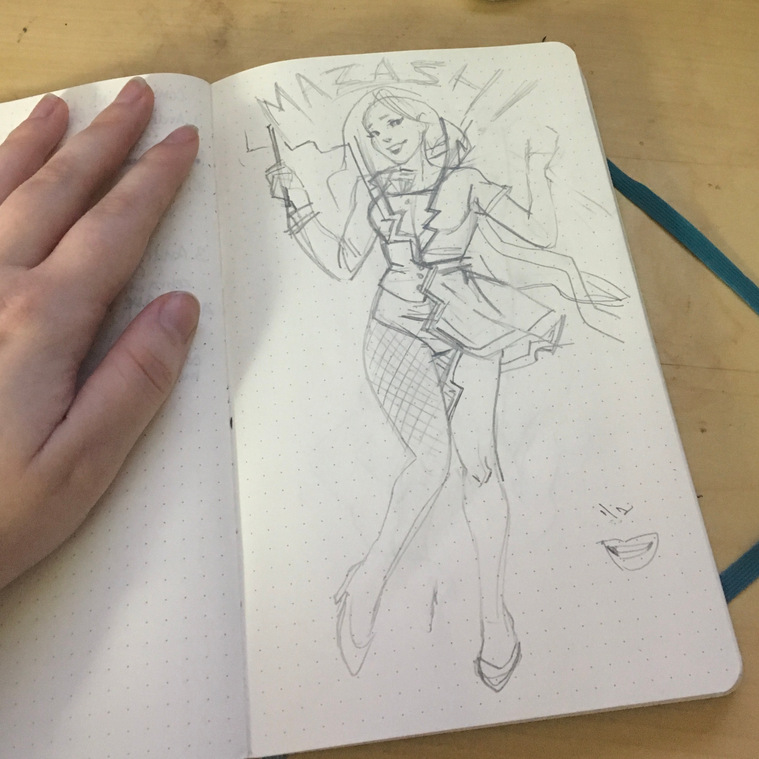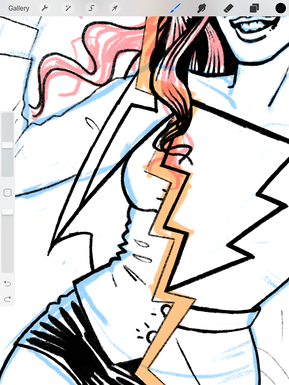 Then I just start inking on another layer. Even though it's tempting to use an "ink" brush for me, I want a lot of line width control here, so I am just layering strokes of the 6b pencil brush.

You can see a time-lapse video of the process. I didn't even draw the hands until halfway through inking.
I love working on iPad because I have the comfort of working traditionally... it feels like I'm just doodling in one of my sketchbooks. But I can zoom in on detail with a flick of my fingers, and easily select areas to resize. In this case, the head, which I drew too big initially.
For this installment, I'll include a What I Should Have Done: Lettering In The Sketch!

I ALWAYS get bored when it comes to lettering. I didn't see it at the time, but the lettering should have been incorporated into the sketch at the first stage.
I spent an absurd amount of time trying to wiggle it into the rest of the image. For me personally, it will never be ideal.
This is a reminder to all artists, sequential etc, NEVER DO TEXT IN THE LAST STAGE!